Your relaxing holiday
Nature, silence and friendliness
Half board treatment is provided, giving you a choice of 3 first courses, 3 second courses, 2 side dishes and 2 desserts. . 
For your dinners, sommelier Cecilia can guide you in the choice of wines to go with your dishes.
Particular attention is paid to allergies and intolerances, indicated at the time of arrival.
The hotel "Al Poggio Verde", built in 2003, was born from the childhood dream of chef Enzo Boschi.  
The chef, after thirty years of experience gained in Italy and abroad, and his wife Cecilia Crescimbeni, a sommelier since 2004, decided in 2003 to start a journey with the aim of introducing nature tourism in Valle Sabbia, their homeland.
For almost twenty years they have been taking care of every detail with passion, from the study of the premises to the search for local gastronomy. 
You will be greeted by their smile that will make you feel at home from the very first moment. A work of dedication, a guarantee of qualified service aimed at satisfying the needs of every guest.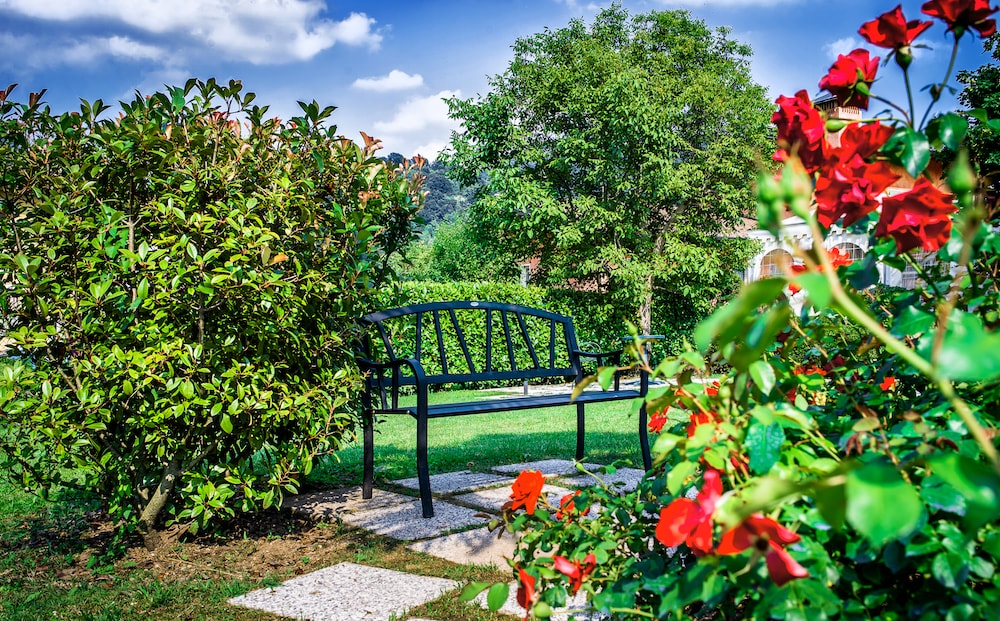 Far from the chaos of the city and the noise of the ring roads, the hotel guarantees silence and tranquillity.
The structure is in fact immersed in a large green hilly area a few steps from the river Chiese and a few minutes' drive from tourist resorts such as the charming Lake Idro and the fabulous Lake Garda.
From the hotel you can enjoy the silence offered by the surrounding nature thanks to dedicated routes for trekking and mountain bike lovers, at all levels.
"Don't waste your time chasing butterflies. Mend your garden, and the butterflies will come." (Mário Quintana)
The link with nature and the garden care are the principles behind the family's business idea; hence the inspiration behind the choice of the name "Al Poggio Verde".
In summer it is possible to have lunch and dinner outside, under the portico. Pampered by the mild climate, the background music and the view of the flower garden, this is relaxation at any time.
Access for people with disabilities